Our Doctors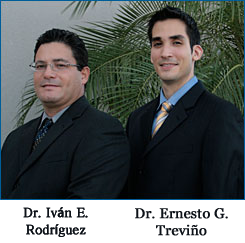 Dr. Iván E. Rodriguez was born in Arecibo, Puerto Rico and grew up in Quebradillas. He received a BS in Biology (1987) from the University of Puerto Rico, Mayagüez Campus, and earned his Dental Degree (DMD) from Washington University, in St. Louis, MO.(1991). He completed two additional advanced certificates: one in Oral Diagnosis & Radiology (1994) and the other in Endodontics (1996), both from the University of Texas Health Science Center at San Antonio. Dr. Rodriguez is an excellent clinician, friendly with all, and known professionally as an accurate diagnostician. He loves outdoor activities and enjoys reading and sharing with his family. Dr. Rodriguez is a past president of the Rio Grande Dental Society and past local delegate to the Texas Dental Association (TDA). He is married to Annette, and together have three children, Ivan Enrique (Ivancito), a student at Texas A&M, College Station, TX, Adriana Gabriela, and Alberto Jose.
Dr. Ernesto Gerardo Treviño is a Diplomate of the American Board of Endodontics. He was born in San Benito and raised in McAllen, TX. He is a native of the Rio Grande Valley, and has enthusiastically returned home to serve his community after finishing a solid academic carreer. He holds a BS in Biology (2003) from UTSA, a Dental Degree (2006), and Certificate of Endodontics (2009) from UTHSC-San Antonio, and an Advanced Education in General Dentistry Residency from the VA Hospital in San Antonio, TX (2007). He has the latest, most advanced, and cutting-edge training that an Endodontist can receive, most important of which are his skills in endodontic microsurgery and pulpal/ endodontic regeneration. In 2012 he was the recipient of the prestigious Texas Dental Association's New Dentist Leadership Award and currently serves as President of the Rio Grande Valley District Dental Society. He is also Chairman of The Texas' New Dentist Committee. Dr. Trevino enjoys spending his free time with his family as well as outdoor sporting activities. He plays the piano and cello...and is also passionate about being active with his Church.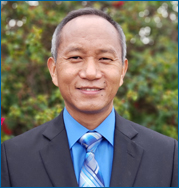 Dr. Victor Luikham is a board-certified endodontist who graduated with a Master of Science in Dentistry (MSD) from Loma Linda University, California in 2012. In southern California, he trained under the tutelage of preeminent and renowned endodontists, Drs. Torabinejad, Bakland, Ruddle and Carr. He is dedicated to providing exceptional and high-quality root canal treatments with a gentle touch. He received his Dental Degree from the College of Dental Surgery in Manipal, India in 1995 and graduated with the gold medal in Oral Medicine and Radiology. He completed his General Practice residency at the University of Alberta Hospital, Edmonton, Canada in 1999. In his free time, he likes to play the guitar and draw or paint to relax.