Anatomy of the tooth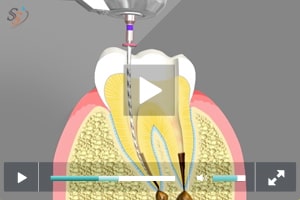 To understand why you need endodontic treatment, it helps to know something about the anatomy of the tooth. Teeth are composed of three layers, the outer enamel, the inner dentin and the innermost layer, the pulp. The enamel is the outer insulating layer of the tooth that is devoid of nerve supply. The next layer, the dentin is innervated and is the sensitve tooth structure. The pulp contains blood vessels, nerves, and connective tissue and creates the surrounding hard tissues of the tooth during development. The pulp is housed in the canal system within the tooth, which comprises of the pulp chamber in the crown and the root canals in the roots. The pulp connects to the tissues surrounding the root through the apex or the tip of the roots.
Endodontic treatment is necessary when the pulp becomes inflamed or infected. The inflammation or infection can be due to a variety of causes: deep decay, repeated dental procedures on the tooth, or a crack or chip in the tooth or traumatic injury to the tooth. If pulp inflammation or infection is left untreated, it can cause pain or lead to an abcess.
Signs of pulp damage include throbbing pain, prolonged sensitivity to heat or cold, discoloration of the tooth, swelling and tenderness in the nearby gums. Sometimes, there are no symptoms.